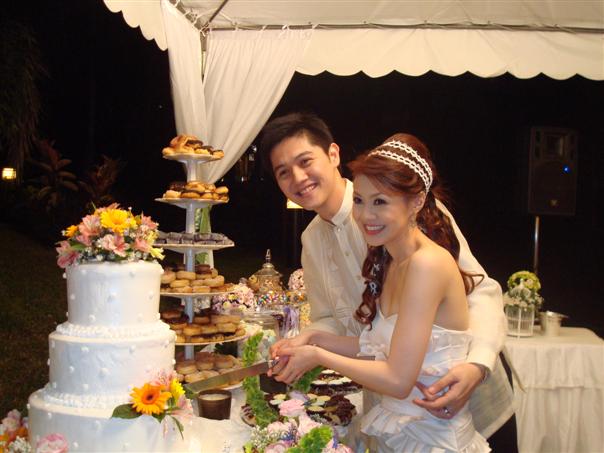 Date: October 26, 2009
Venue: Josephine's Tagaytay
Stylist: King Louis by Dr. Nikki Chato
Photographer: Xavier Pales
Videographer: Xavier Pales
Gown: Ryan Madamba
It was a perfect day for a seemingly oh so perfect pair. Mitch and Jane looks like a match made in heaven and for sure that day, all the heavens above were smiling as we are given a really nice weather in Tagaytay that was just perfect for the ceremony walk, cocktails and dinner.
Mitch and Jane's wedding set in family owned Josephine's restaurant in Tagaytay is so different coz there was no formal program at all. it was just lots of eating, mingling, chatting, and just enjoying each other's warm camaraderie among family & friends and yet everyone stayed on till the end and was just so plain happy for the couple. The set up made by King Louis farm, is whimsical but elegant and relaxed at the same time.
The bride Jane made sure that her personal touches are seen in the menu cards, cocktail list and even her invitations which she designed herself.
The candy buffet as giveaways was such a hit and so is the huge lechon baka which was enough for everyone to even take home!!! All the best and congrats again to this super wonderful couple…. so uncomplicated and yet so unique :))