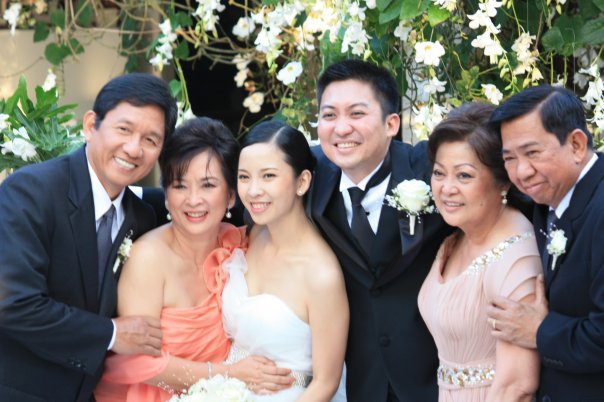 Date: February 6, 2010
Venue: Hacienda Isabella
Catering: Chef Cuisine
Stylist: Henry Pascual
Photographer & Videographer: Lito Sy
Musician: Da Capo
Band: Powerhouse Band
Gown: Sasa Jimenez
Lights & Sound system: Sensitivity
Jett (Christian) Barleta and Jojo (Jocelyn) Sy are Christians, and Hacienda Isabella in Tagaytay, proved to be the perfect venue for a very private and intimate ceremony and reception.
The venue looks like a scene in one of those American Pie movies, complete with private villas to house the guests and all activities within the hacienda.
But unlike the American Pie movie that's so full of irrational twists and turns, this wedding is exactly the opposite….
It flowed oh so smoothly with nary a glitch. An act not easy to pull off since hacienda is not exactly along Tagaytay road and you have to detail every bit of item you have to bring in.
Kudos goes to Jett and Jojo, who a will never backtrack from a challenge, plus they are perhaps the most patient client I have ever worked with. You will never hear them complain or demand at all :)
Special thanks again goes to the suppliers i worked with in this wedding, as again we did work as a team in full support of each other and the end result was truly both inspiring and rewarding :))