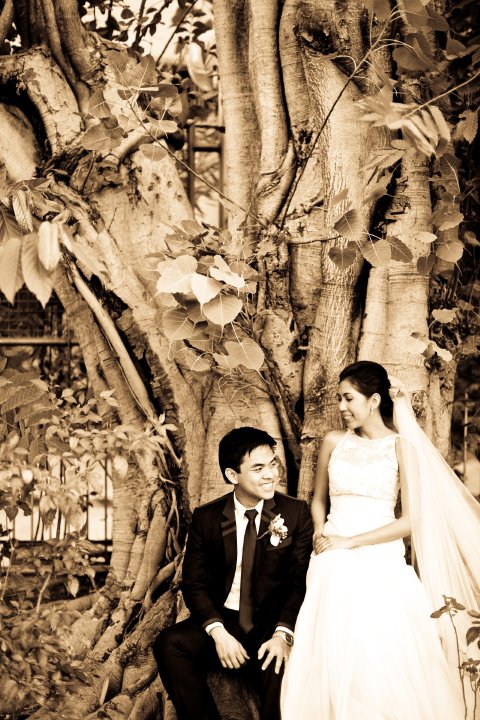 Date: March 27,2010
Venue: Manila Polo Club
Stylist: Zenas Pineda
Photographer & Videographer: Pat Dy
Musicians: 3rd Avenue Band
Emcee: Atom Ungson
Lights, Soundsystem & Drapes: Sensitivity
Been so looking forward for this wedding. Well for one, I'm a coffee addict and this is a "coffee themed" wedding. Yup, complete with a coffee cart brewing coffee for the guests from cocktails, to dinner , to after party. Imagine the caffeine kick they got and it worked. Party on till midnight with 3rd ave band.
Guests were given coffee cups upon arrival with nuts and chocs in it plus a customized coffee sleeve that has their table nos in it..cool ha:) coffee cup and escort card at the same time.
Venice went all out for the details from invite to menu card to table nos. Zenas Pineda, captured the couples taste for the minimalist and the understated. Lots of low lying designs with chunky candles kept the romantic glow.
Pat Dy was the only choice of the couple to cover the event. A videographer was not hired as the couple wanted to focus only on the photos presented in a slide show same day edit format. Of course, expect that the guests were awed by Pat's display of photographic brilliance :)
The dessert buffet showcased all coffee themed designs in cupcake form made by the brides sister .Coffee beans were also used generously as design material.
In the end, it was another fun filled event . Morning after, i woke up to a text from sonny and venice …a very warm " thank you's " from the couple. Now, that really perked my morning ..with of course a cup of coffee :))