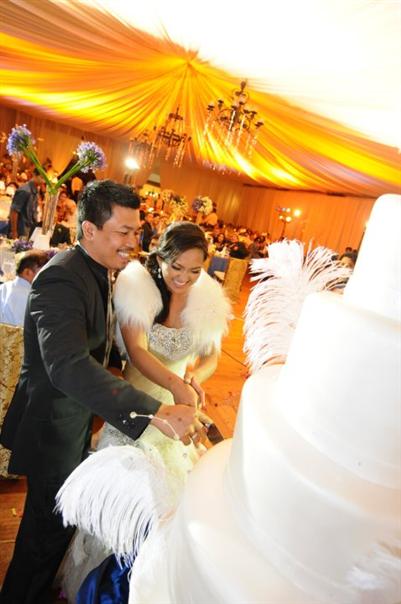 Date: May 26,2010
Venue: Manila Polo Club
Cake: Cake Concept
Photographer: Lee Llamas
Videographer: Nice Print
Musicians: 3rd Avenue Band
Lights, Soundsystem & Drapes: Sensitivity
Francis and Tinz are based in Hawaii and got us for a Full Package. At the very onset, I can already guess that these couple has this "It" factor going about them in terms of fab and glam. In other words, they naturally exude it so I just know what would make them happy.
Enter the suppliers' team we formed and the couple decided on via online and I must say they are very consistent in the choices they made. Manila Polo Club to host the glam event with Robert Blancaflor Styling, Lee Llamas to capture the couples awesome shots, avant garde designer Jerome Ang and for the oh so fabulous gowns for all. Lourd Ramos who captured Tinz exotic and smouldering beauty. 3rd Avenue Band provided the music for both church and reception. Sensitivity draped the entire event with great lighting as well.
So weird but so true, that the best things happens to clients who trust their suppliers so much that we don't have a choice but deliver all the best. :)
Seriously, Tinz and Francis are dream clients. So easy to work with and really knows what they want. They certainly decide fast as well and I must say both are truly nice. :) The wedding day definitely spells fun, fun, fun from beginning to end :)