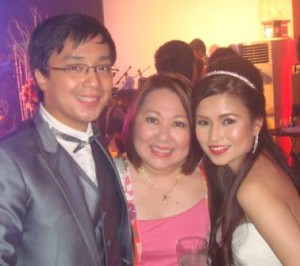 Date: June 11, 2011
Church:Lourdes Church
Venue: Ville Sommet
Photo and Video: Nice Print
Catered by:Josiah's Catering
Bridal Gown : Happy Andrada
Music: 3rd Ave Band
Lights and Sounds: Sensitivity
Cake: Judy Uson
Hair & Make-Up: Albert Curniawan
Photobooth: Studio on Wheels
Fireworks: Dragon Fireworks
Lighted Balls: Varick Ong
Church and Entourage Flowers: Love N' Blooms
Working with celebrity bride Say Alonzo is like working with any excited and giddy bride looking forward to her wedding day. She's as normal as anyone else. Surprisingly, no celebrity air or showbiz status in her persona. Say is super down to earth and truly sweet to everyone in the wedding team. Ryan Tordesillas is also a hands on groom and i must say both are lucky for each other. Its no wonder the wedding is devoid of showbiz trimmings as they are simply two people so in love with each other . Full support for the couple are relatives and friends who came in full force for the fun , but at the same time close and intimate gathering. They were also blessed with great weather but i must say Ryan did have a concern with the rains the past few days but i was just so confident that God will bless this couple with good weather and it did !!! Not surprising with the innate goodness of these two :) The couples Grand Entrance Sing and Dance Portion , sealed the start of the fun night. As the guests had their fill of the sumptous buffet spread from Josiahs, it was games, AVPs and speeches one after the other. 3rd Ave Band made sure everyone will dance to their feet and the jamming portion that happened towards the end brought so much fun to everyone. A fireworks display capped the awesome night !!! Congrats again Ryan Tordesillas and Say Alonzo :) All the BEST !!!
RYAN + SAY SDE by.niceprint from ghe consolacion on Vimeo.
The Grand Entrance duet :) it brought the house down !!! :))

ryan+say duet.. from niceprint photo on Vimeo.
We love you Kutchie, we wouldn't have been able to do this whole thing without your help! thank you so much for being super accomodating and helpful:) Also, thanks for the balloons, super nice gift:) <3 -Say Alonzo [nggallery id=92]