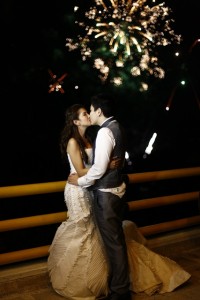 Jardine & Gen Gerodias
Featured Wedding on Bridal Book Ph
Posted on: Oct 4, 2011
Author: Keisha Uy
Gen and Jardine made their big day a one-of-a-kind affair that celebrated everything they love and enjoy. Retro pieces that channeled their childhood and quirky accents that showcased their present interests laced the fun-filled destination wedding.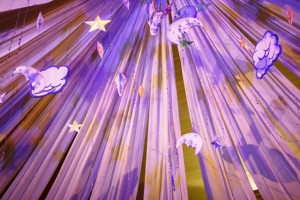 Love Story
Gen and Jardine indirectly met through Facebook. Jardine's sister saw a picture of Gen on a common friend's page, and she immediately thought that she would be her brother's kind of girl. So Jardine's sister and their common friend set Gen and Jardine up on a date, where the two quickly hit it off. "It was "Like" at first sight," the bride wittingly exclaims.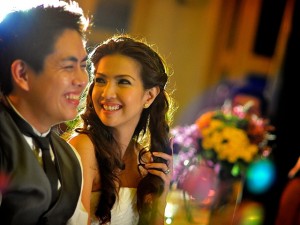 Two years into the relationship, Jardine felt that it was the perfect time to pop the question to Gen. The proposal led to a short six-month engagement since the couple wanted to start a family right away.
Wedding Preparations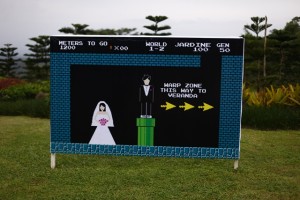 With little time to prepare for their big day, Gen and Jardine made sure that they were completely hands-on with planning to achieve the wedding of theis dreams. The couple's Tagaytay wedding exhibited fun, charm, and whimsy as it was dotted with quirky and electic details that channeled the couple's interests. From the couple's Phenakistoscope invites to their mini cake souvenirs that came with Zoetropes, the wedding oozed with personality. "The wedding itself embodied all our interests from our youth to the present, with our love for music, books, scuba diving as elements, "shares the bride. With the number of interactive details the wedding had, the guests didn't find it hard to feel at ease and enjoy themselves throughout the event.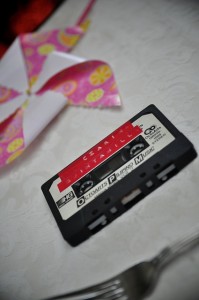 Weaved into the quirky details were warm touches that also showcased the couple's relationship. As the groom was saying his vows, blown-up photos were flashed on the screen and served as funny accompaniments to his promises. Photos of the couple together and growing up were also put in display during the reception.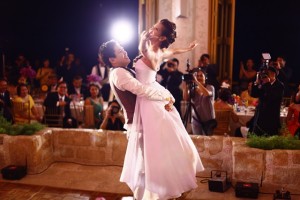 In the end, Gen and Jardine were able to pull off a one-of-a-kind destination wedding that exuded a playful character and irresistible charm.
no images were found