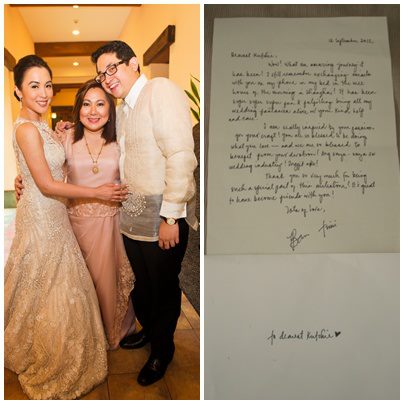 Dearest Kutchie,
Wow ! what an amazing journey it has been ! I still remember exchanging emails with you on my i phone in my bed in the wee hours of the morning in Shanghai ! It has been super super fun and fulfilling bring all my wedding fantasies alive with your kind help and care.
I am really inspired by your passion for your craft !! You are so blessed to be doing what you love–and we are blessed to benefit from your devotion ! Ang saya saya sa wedding industry! Inggit ako !
Thank you so very much for being such a special part of this milestone! It's great to have become friends with you !
Lots of Love,
BAM & TIMI
On-Site Slideshow by Pat Dy

OSV by Nice Print

Bam Aquino & Timi Gomez OSV by: Nice Print Photography from niceprint photo on Vimeo.
Wedding Inspiration Blog At Bride and Breakfast Bam Aquino and Timi Gomez's Filipiniana Wedding
no images were found
Date: September 15, 2012
Wedding Planner: Kutchie Zaldarriaga of Getting Married Phils.
Church:Don Bosco, Chapel on the Hill
Caterer:Splendido
Bridal Gown: Veluz
Entourage Attire: Christine Lam
Styling:Badang Rueda
Official Photography: Pat Dy
Official Videography:Nice Print
Lights & Sounds: Juancho Fondevilla of Sensitivity
Hair & Make-Up: Jigs Mayuga
Invite:Ina Silva
Preparation: Sonyas Garden & Taal Vista Hotel