ANDREW & JHOANA
DATE: NOVEMBER 9, 2013
PLANNING & COORDINATION: KUTCHIE ZALDARRIAGA OF GETTING MARRIED PHILS
CHURCH: DON BOSCO CHURCH
RECEPTION:CONSERVATORY MANILA PENINSULA
OFFICIAL PHOTOS: FRANCIS PEREZ
OFFICIAL VIDEO: THREELOGY BONG SARE
BRIDAL GOWN: CECILIO ABAD
ENTOURAGE ATTIRE: ROSALYN LAGDAMEO
GROOMS SUIT: SARTO MANILA
FLORAL STYLING: KING LOUIE FLOWER FARM NIKKI CHATTO
HAIR & MAKE UP : ALBERT KURNIAWAN & JERRY JAVIER
MUSIC: 3RD AVE
LIGHTS & SOUNDS: SENSIVITY
CAKE & GIVEAWAYS: BIZU
PHOTOBOOTH: BLOW UP BABIES
PROJECTOR: MG DIGITAL
LFD WALL :CHESTKNOTS
EMCEE:MALLORY COSIO
INVITATION:PRINTSONALITIES
Jhoana Bart-Domingo is a super pretty Flight Attendant. The first time i met her, i immediately like her, as she was the sweet kind of bride . A consistent one at that too, always smiling and oh so thoughtful!!! I think for every meeting that we have, she has something "pampataba " for me :))
Given the distance of her kind of work with long haul flights, she decided on a Full Wedding Package. I was just so happy she did , as it was such a pleasure to work with her and help her plan her dream wedding. Believe it or not, she was one bride whose main communication tool with me was via Facebook !! For some reason, it easily connects her to me in whatever country she is in.
My groom , Drew Domingo is the strikingly handsome kind and what i love about Drew is that he was always supportive of Jhoana's preferences. He may be quiet but you just know that he also wants the best for Jhoana.
Wedding day and how can you go wrong with the great line up of suppliers they have chosen . It was so nice to see their beautiful guests all dressed up in formals and really stayed on until the end of the wedding. The suppliers also delivered in full force and i was truly happy for them.
The stars of the night Drew and Jhoana , both look so radiant and are showbiz material in terms of look, but with so much kindness deep inside. Thank you to Drew and Jhoana for giving me the pleasure of making me a part of your wonderful wedding !! God Bless you both always !!!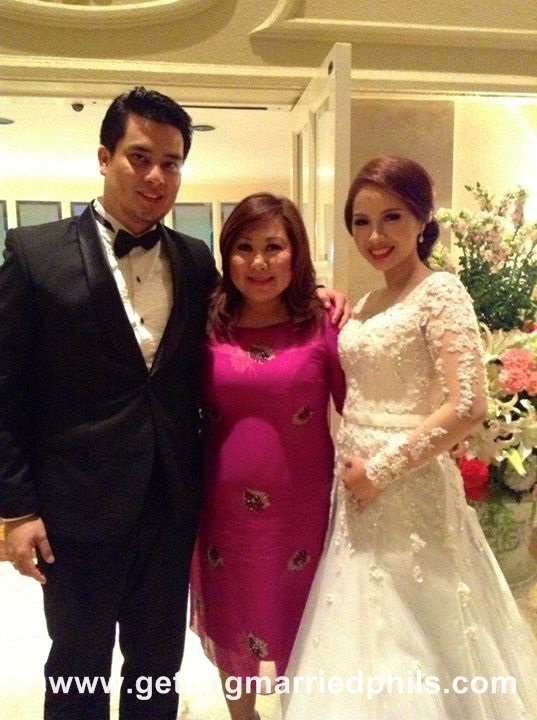 with Yolanda coming all over the news…this was one wedding, i wont ever forget … but then again who would ever forget a lovely couple like Jhoana Bart-Domingo and Drew Domingo sharing this video onsite by Threelogy
Thank u very much to all our wedding suppliers!! very much efficient especially Getting married team!!
-Jhoana Bartolome-Domingo via FB
Can't thank you enough Ms. Kutchie! As a groom I'm so proud to fulfill Jhoana's dream wedding she deserves it! Thanks to all of you guys cheers!!!
-Drew Domingo via FB